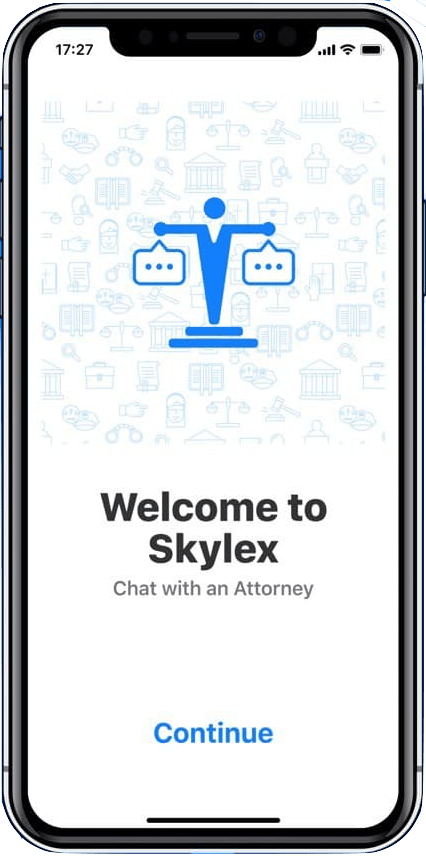 Skylex is an app that can help anyone quickly find the right  lawyer, get connected and get help. 
You can find a lawyer by name or practice type. Our professional legal team will identify the type of lawyer you need and will connect you with an attorney in your area. If you're not sure what sort of attorney you need, just ask a question in the Support Tab and we'll take it from there.
The app is very simple to use. Most people get the legal help they need almost immediately. Our professional legal support team is online nearly 24/7, and our goal is to connect you to the right attorney in your area. 
Once we refer you to an attorney, Skylex provides secure communications, including a messaging and calling system.  Your call will be placed over the Internet just like Skype or Zoom do it. You exchange messages like the text messages you're used to, while your cell phone number always remains private. Plus, we have additional features like voice messaging, quoting messaging, deleting messages, time tracking and other features you need when you speak with a lawyer. In short, Skylex replaces landline calls, dialing and saving contacts, emails, voicemails, and more. 
On Skylex, you communicate directly with your attorney, chatting online rather than in stuffy, formal meetings. Skylex is an easy way for you to talk with an attorney, share the facts of your case and find solutions. We have lots of features that make legal communication more effective.
Skylex provides direct access to lawyers. Our network of top notch attorneys won't say "call my office and leave a voicemail or schedule an appointment." They'll start fighting for you right after you message them.  
Unlike other legal apps
like Clio, Rocket Lawyer, LegalZoom, or LegalShield, Skylex allows you to choose who you want to work with by checking the lawyer's professional profile, have a chat or a call, exchange documents, track the time you've spent on the phone, add a colleague or a family member to your conversation with the lawyer, and delete all data sent to the lawyer at any time.  And all for free!
Send us your inquiry here and we'll contact you!